« Features

Jerome Robbins' rumble dances in West Side Story were so uninhibited when I saw them in rehearsals for the Philadelphia opening that casualties compelled the choreographer to mitigate the action for the New York run.
In addition, for 1957, the Bernstein score was a harmonic breakthrough for Broadway.
Buoyed by its modernized Romeo and Juliet theme, the show caught on and so did its innovative music (Bernstein himself facetiously pointed out that in "Somewhere", he had cribbed some of his themes from Beethoven's "Emperor" concerto and Tchaikovsky's "Swan Lake" ballet.). These were so converted that this original score went beyond Broadway even to be heard in concert halis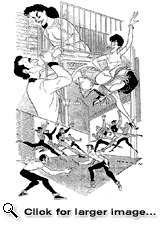 All artwork has been reproduced by special arrangement
with Sam Norkin Studio. Click here for more information.



"Assassins is about how society interprets the American Dream, marginalizes outsiders and rewrites and sanitizes its collective history. "Something Just Broke" is a major distraction and plays like an afterthought, shoe horned simply to appease. The song breaks the dramatic fluidity and obstructs the overall pacing and climactic arc which derails the very intent and momentum that makes this work so compelling..."
- Mark Bakalor


"I found [the Sondheim Celebration's Company] to be completely delightful. Almost all of the numbers excited and energized me, and most of the scenes were about as pitch-perfect as you can get. I just sat there with a big smile on my face the whole show.
Which is not to say that it is perfect..."
- popcornonmyknees

Explore the rest of the Finishing the Chat Community Forum

With three hand-held cameras, one major theatrical milestone and nearly nineteen hours of footage, this rare and intimate look with Original Cast Album - Company is a must for any Sondheim fan.




One of Sondheim's most beloved works is sure to be Sunday in the Park with George, available on DVD, video tape, and CD.

CD: $13.99
DVD: $25.49
VHS: $19.98




All Sondheim completists are sure to now own the first complete recording of The Frogs coupled with Evening Primrose. Do you?


Browse additional merchandise...